Screen Repair
Your windows may have a long lifespan, but the window screens can be easily damaged by kids, pets, and even the environment. If you have screens that are loose and pulling away from the frames, have holes in them or other damage, we can help.
These issues are more than just unsightly.
They're most likely allowing pests into your home, or you just stopped leaving that window or door open altogether.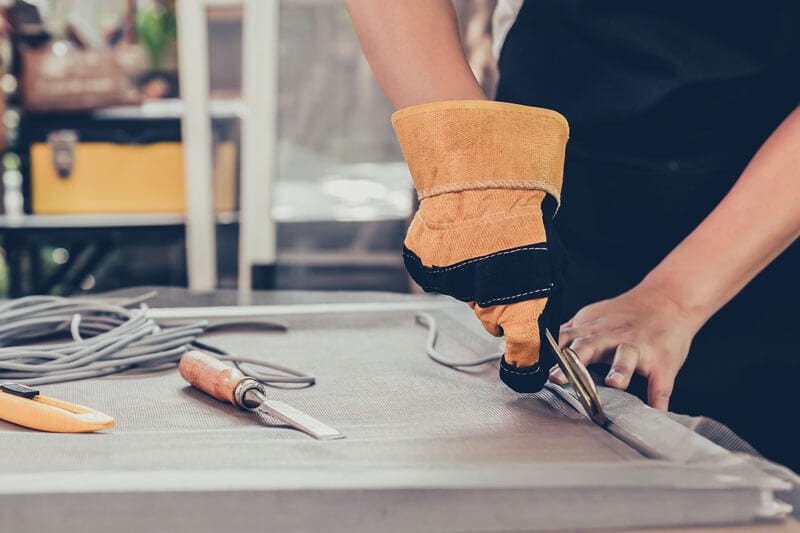 These details matter, both functionally and aesthetically, and we make it easy for you to manage your screen repairs.
On-Site Screen Repair
At 419 Window Cleaning, we want to keep your windows looking their best, including your screens. When we come out for an estimate of our window and screen cleaning services, we can inspect your screens and advise you on options for repairing the damage. Some screens needing minor repairs can be fixed on-site while others may need a little more attention. 
Mobile Screen Repair Services
For the screen repair jobs that require more than a quick fix, we will schedule a time to come to your home, remove the damaged screens, bring them back to our workshop for repair, and schedule a time to come back and reinstall them in your windows. There is no need for you to provide any of the removal, transportation, or re-installation. 
We take pride in our commitment to providing reliable service to our community and every job we do, no matter how big or small, is done professionally with integrity.
If you need a screen repaired, we will be there as scheduled, and you can get back to enjoying open windows and patio doors without ever transporting screens to the fix-it shop for repairs.
Schedule An Estimate For Screen Repair
When we clean your windows, we can provide an estimate at that time for any screen repair needs.
We guarantee your satisfaction with the job we'll do for you, and if you aren't satisfied, we'll be back to make it right.