Window Cleaning
A lot of time and energy goes into great curb appeal.
Dedicated property owners realize the impact of clean windows and keep it high on their list of priorities to see that it gets done on a regular basis.
They just don't want to be the ones cleaning the windows themselves.
We are fully licensed and insured.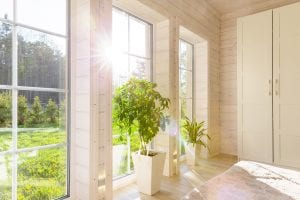 The truth is most people don't have the equipment to tackle upper story windows safely and easily, and dragging extension ladders around isn't a fun way to spend an afternoon.
At 419 Window Cleaning, we have the time, equipment, and skills needed to get the job done quickly and safely, inside and out.
Our method of window cleaning eliminates the need for harsh chemicals to get that streak-free shine. By using only purified water, our window cleaning process leaves no residue or spots and keeps windows cleaner longer.
Residential Window Cleaning Services
Interior/Exterior Window Cleaning
Our interior/exterior window cleaning service includes the cleaning of both the inside and outside of all the windows in your home including patio doors. On the inside, we don't only clean your windows to a spot-free shine, we're also going to make sure the sills, tracks, and screens get wiped thoroughly at every visit. We can even reach those hard-to-clean windows in your home in your entryways or alcoves.
Exterior Only Cleaning
On the outside with water-fed poles, we can access second and third-story windows without the hassle of extension ladders or potential damage to your landscaping.
Depending on the status of your screens, we may suggest periodic screen cleaning services, and if any screens need to be repaired, we can handle that too.
Commercial Window Cleaning Services
First impressions are everything. Clean streak-free windows let your customers know that you take pride in your business. Trust 419 Window Cleaning to wash and clean your windows. We currently are booking estimates for one, two, and three-story buildings. Save money and get your property on one of our maintenance-free plans and we'll create a schedule to clean your windows to keep them sparkling clean.
Safety First and Always
At 419 Windows, our customers know that we will treat the interior space like our own. We wear protective gear to protect your home and ensure that we leave it exactly the same way we found it.
During COVID-19, we will also wear a mask inside your home or business.
Being a window cleaning service you can depend on to keep your home and business looking its best is important to us. We're strongly committed to upholding the values we believe make locally owned businesses the foundation of a great community. We show up on time, every time, with the utmost respect for you, your property, and deliver a job well done.
If You're Not Satisfied, We'll Quickly Make It Right.
You can count on us for regular window cleanings as part of a scheduled maintenance plan, or schedule our services as needed. Trust 419 Window Cleaning to make sure that all your windows, including your patio doors, are sparkling clean and spotless.